Well, the poor Santa Fe clobbered another Kanga, so its into the pannel beaters for repairs. So the very generous AAMI have again provided a free rental car. This time its a Camry, because thats what the agent had. Unfortunately not a hybrid, as that is what we also considered when we bought Nic. (Santa)
Attachment: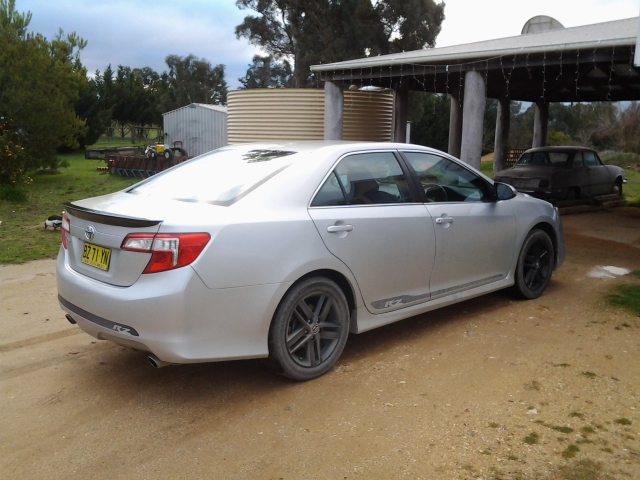 20160701_161325.jpg [ 247.63 KiB | Viewed 2480 times ]
Yeah, its not the current model, 2 years old with 52000ks up.
So whats it like?
Well, firstly I don't want to sound ungrateful, but I have to give my thoughts because...... well, I don't have a Bellett story at the minute.
Its a perfectly acceptable car, quiet, sufficiently powerful, and really roomy. Stereo is good too. And economical, 7l/100ks on the trip to Sydney. Thats as good as the Santa Fe! (Though its smaller and lighter and has 2 less seats.)
But. Who put those low profile tyres on there? The ride is choppy, even harsh even on the blacktop. On the potholes its horrible. I guess we are spoilt by the Santa Fe, particularly for traction. Push the throttle and it goes, but the Camry spins one wheel in the wet, and on muddy dirt (we have had fantastic rain!) Its slewy and not easy to keep straight. I suppose we need more than one diff.
And theres no lumbar support (!) in the drivers seat. I had to put a rolled up jumper behind my back. And its pretty hard too. And the cruise control over runs down hills, so its not as good as a Corolla.
To be fair, the tyres are just about baldy, and it hasnt had a service for 22000ks acording to the logbook, so I will be returning it for something else. Maybe an X trail?
Sorry if I sound like a sook, its ok, really, just not a horse for this course.
And I am grateful.
All good fun,
cheers, Matt.
_________________
Life is far too short not to fill it with what you love.
- Jackie French.[/size]