Many of you will remember the blue 66 Teardrop sedan that Ross trailer'd all the way from South Australia to the 2016 National meet in Albury. He was selling it as part of his fund raising efforts for the Cancer Counsel's Shitbox Rally.
Well I ended up being the one to buy it (surprise surprise) and have FINALLY made the journey back down south to pick it up from Gricey's place (massive shout out of thanks to Jim and Cheryl for storing the car for my for so long too andputting up with my intrusion for a few days...... again

)
I've even bought a commemorative car badge to go on the teardrop that I got from another guy doing his own fundraising for this years Shitbox Rally
Attachment: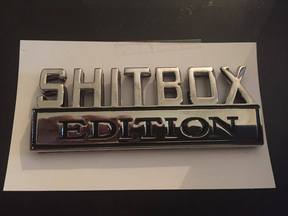 Shitbox Edition badge.jpg [ 8.17 KiB | Viewed 535 times ]
I was lucky enough to get use of the bosses work truck over the holidays which gave me the opportunity to arrange for the purchase and pickup of another car at the same time, as well as help out Peter Mckill by delivering some parts down for his new 117.
So the parts and some loading ramps along with a swag were all loaded and secured on the back of the truck then bright and early on the morning of Dec 26th I hit the road
It was a great trip down, taking some of those off the beaten track roads I love to drive so much. Found some great new road trippin' roads for future Nationals trips too. I saw some beautiful countryside and experienced all sorts of weather conditions along the way including being blanketed with hail near Armidale.
The trailer tracked a bit weird behind the truck on the way down and when I got to Gricey's and backed the trailer into the paddock to load the teardrop the reason why became clear. The center locating pin on one of the sets of leafsprings had broken and allowed the front axle so move backward and forward a few inches. So trailer was jacked up and leafspring was pulled apart and center bolt replaced.
Although there must have been some damage done to the tyre also because I later had a blowout after picking the second car up from Wagga Wagga

And of course what is a roadtrip with Belletts if you don't do at least 1 lap around Australia most famous mountain

And of course there is the mandatory photo from the top of my favorite mountain top dirt road
And finally the morning after arriving back home in sunny QLD with my new babies