Hey guys,
Turns out the Pope is rocking it in style during his visit to the Philippines:
Attachment: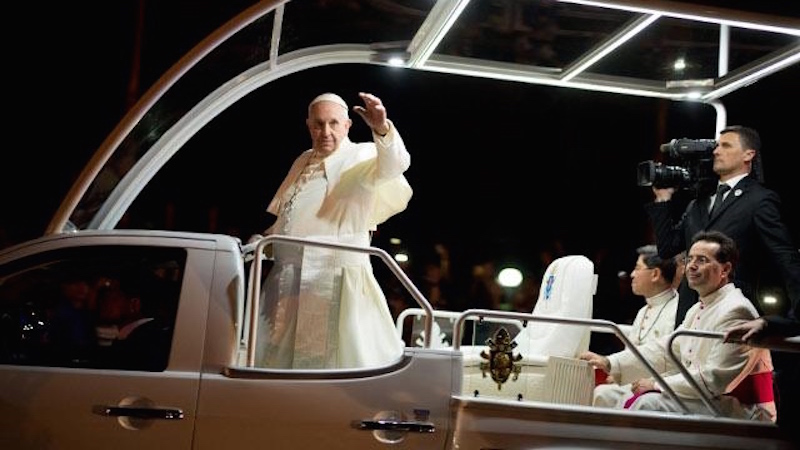 640_2015_01_16_21_24_53.jpg [ 133.31 KiB | Viewed 2839 times ]
From the news article here:
http://isuzu.co.uk/outdoor-life/your-d- ... popemobile
Original text:
A brand new 2015 Isuzu D-Max was highly customised to be used as one of the three Popemobiles to chaperone Pope Francis around the Philippines during his five-day trip.
The D-Max Popemobile was used to collect the Pope upon his arrival at the Villamor Air Base in Pasay City and to escort him to Manila Cathedral to celebrate Mass and meet with church leaders.
The white D-Max was fitted with the finest imported Italian leather, as well as sporting a Vatican emblem, which was approved and blessed by the Vatican. A simple glass roof was added to the D-Max to comply with the Pope's requirement of shelter in case it rained. It was a shock to some that this was the only requirement from him, as Pope Saint John Paul II's Popemobile was encased in bulletproof glass.
An open structure allowed him to stand on the back of the truck waving and smiling as the crowds lined the route from the Palace to the Cathedral cheering him.
Originally the plan was to use a closed Volkswagon Touran from the SM Mall of Asia Arena, instead the Pope appeared in his customised D-Max giving crowds a much better view.
Pope Francis was extremely impressed by the Popemobile, so much so that he invited former Ambassador Tony Cabangon-Chua to the University of Santo Tomas to thank him personally for creating the vehicle. The making of the D-Max was a joint undertaking of Almazora Motors and Gencars, who sell Isuzu pickup trucks and sports utility vehicles. The D-Max popemobile will be taken to the Vatican to be used for the Pope's future trips.
Fear not, brothers!
Blessed are the Isuzus!
Cheers,
Dave
_________________
My latest automotive articles and original content shared here:
https://www.facebook.com/garageofawesome
Street Machine!
Unique Cars!
Awesome!