Thanks to all those watching and cheering. I'm sorry you all were not able to along in the flesh, but were tnought of and spoken about in many conversations.
There were some great moments, like an older lady reading Doris' story board and relating that she had a Bellett for 32 years, then being able to point out the bloke she sold it to 14 years ago who was also down for a look.
Things were well organised and ran like a clock, so many thanks to Peggy and Steve.
Great raffle too, I now have a set of 6 Bellett mugs!
Attachment: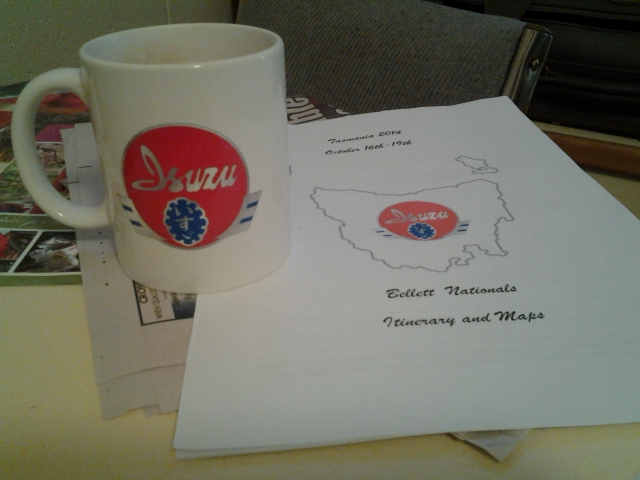 20141019_080201.jpg [ 201.93 KiB | Viewed 4742 times ]
It was a very fun night.
We are home now, coming off the Spirit yesterday morning and making the straight run home. The contrast of the Hume's comparative straight and boringness was extreme after so much to see everywhere we went in Tas.
Doris went great and now has another 1100 miles under her belt. (Skirt?)
Another contrast, its 30 degrees! Where did that come from??
Cheers, Matt.
_________________
Life is far too short not to fill it with what you love.
- Jackie French.[/size]