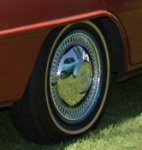 Joined: Thu Sep 11, 2008 9:15 am
Posts: 1974
Car(s): 1965 Wasp, 1966 Bellett sedan, 1966 RatBellett sedan, 1967 Bellett GT, 1978 Gemini van, 1994 LS400, 2004 VY SS Sandman



TravelRant - The Empire Builder and Phone Crusher
It's been a couple of weeks since we pried our spying eyes into America's back yard via the Southern Crescent train from New Orleans to Washington, so it's high time for another train journey.

The plan was to go from New York to Seattle. Without consulting a map, I assumed this to be about 2 hours. Not really, but most tourists come to Australia with the notion of driving an elderly Mitsubishi L300 around our coastline in three days, so it sounds reasonable to repay the misconception.

The journey requires two trains; the Lake Shore Limited from New York to Chicago, then the Empire Builder from Chicago to Seattle. The Empire Builder is both grandiose in name and size; it took several minutes of walking down the platform just to get to our carriage and getting to the dome-windowed Observation Lounge requires a stop at the Dining car in order to have the sustenance to make it the whole way.

The passengers too have been as grandiose as the train itself. Someone has been corralling a group of mentally disabled people from carriage to carriage, herding them with the same ease as herding cats. One of them, Big Yellow Guy, clearly loves yellow. His big yellow t-shirt is hard to miss and his yellow baseball cap sits on his head at that awkward aspect that only people with a mental disability can muster. The poor guy can't speak either, but he makes lots of happy noises. Given his size, if he is happy, I am happy as I'm sure his muscles aren't disabled and he appears to have the capacity to de-rail this juggernaut if things were to play poorly for him.

Last night, we retired to the Observation Lounge (visiting the Dinner Car en route so we did not die on the way) and were privy to an interesting courting ritual. A woman, with hair the size of a planet and a face like a dried fruit, was bickering with an elderly gentleman at the opposite table. Without ever hearing what was going on fully, it appeared the gent was chatting her up, dropping the subtlest of innuendo, which for many Americans him included, is as subtle as an intercontinental ballistic missile.

In return, she proclaimed very loudly that "NOT EVERYTHING IS ABOUT SEX." At this point, I became very worried that they'd jump across the aisle and begin right there on the table, destroying several thousand dollars of hips in the process. But they kept on with their sexual bickering. She pretended she was doing her puzzle book, while he nursed a beer longer than it would have taken for his hip to mend and all the while it was exactly like watching Jerry Seinfeld's Uncle Leo arguing with Fran Drescher's mother. I thought I'd transcended real life and entered a sitcom crossover.

It's not like I find these people comical. OK, the oldies were definitely comical, but the thing that amazes me is the accents and body language. Walking behind a couple of guys in New York recently, I thought I was in the Sopranos. I have never seen it and don't know where it's set, but one guy was talking about "Joey" and how "he shouldn't not have done nuffin' that caused dat issue, you know what I'm sayin'?". I did not, but his friend knew exactly what he was talking about. To me, they sounded like they were going to whack Joey, but in reality they were probably going to reprimand him for losing the Anderson account at whatever bookkeeping firm they work for. Or they were going to whack him. I'll never know.

We spend our life in Australia watching TV and movies and about 90% of them are from the USA. We watch them go about their televisiual and movie business, like arresting people, whacking people, driving maniacally and, in the case of Kevin Spacey, working in a burger joint deep in middle-age. Bizarrely, this is kind of what they do. Sure, they use the restroom, buy laundry products and catch up with relatives more than they do on the screen, but so far I've seen them do all of the above; arrest people, drive maniacally and be middle aged while working in a burger joint… and assuming Joey is going to be whacked, then we've ticked off the whole list.

I just don't think the appeal works both ways. It certainly doesn't work within Australia. I've never felt the need to slap someone in a surf club because I saw it on Home and Away, nor have I felt the need to pry into the daily lives of country cops or doctors, because by and large, they sound like I do and they do what I do, which is mainly push paperwork and complain. And irritatingly, on Australian television, they're more likely to go to the restroom, buy laundry products and catch up with relatives, because most Australian shows, aside from the first Underbelly series, are shitfully boring.

While this comparison with the television and movies that we are fed is interesting, it can't sustain my interest forever. I can already see the cracks sneaking in. In New York, every single New Yorker we met was, quite possibly, the rudest person I had ever met. This was a harsh reality because the first Californian we met, Nicko the reception guy in Pomona, was so helpful he even told us where to score pot, which we didn't. And he stated that compared to
Australia, where he had visited, the bar and waiting staff try extra hard to earn your tips because poor work is poor tips.

Maybe he's right, but by the time we got to New York they'd forgotten that. And staff that don't get tips don't even try. We bought items from a chemist without talking to the checkout chick at all, as she was in fits of laughter talking jive to the checkout chick next to her. "$4.36, I assume" I said when the price came up. She didn't acknowledge and continued to talk jive to Moesha at the next 'service' desk. So we chucked her some money, got the change and walked out. Technically her interaction wasn't required – all she had to do was scan stuff and hand us change. However they have robots that do that now; I've seen them at Woolworths, so it would have been better for her not to be there at all. I'd prefer no pilot to autopilot.

The chemist check out chick isn't going to get a tip whatever she does, however the attendant in the Empire Builder train from Chicago to Seattle will. Or rather she will, but not from me. I can't pick her accent, but she drawls fairly heavily and speaks slowly and clearly, all the time, even when the information is not needed or wanted. She drawled out instructions for dinner and breakfast over the PA system, then came to each individual cabin and drawled the same thing and then proceeded to explain the PA system itself, which in our cabin does not work.

But I can't fault a person on the extreme caution and care they use speaking, especially to dumb Australians who have never heard an American accent before. However if she'd used the same caution and care putting the beds down, she'd have not crushed my phone. She handed it to me and said, very carefully, "oh look, this has been damaged… what is it?". I should have told her it was compacted C4 and she's lucky she's still got a face, but instead I advised it WAS a mobile phone which she has now converted into a paperweight. What I did not explain is that as we don't own any watches, it was also our only clock and our alarm clock, plus a handy world clock so we know what time it is at home. And that the complete lack of it is going to be the biggest pain in the arse. I guess money talks. And my money is going to say, "No money for you, I'm buying a new phone."

Cheers,

Dave
_________________
Check out the latest car articles on....
www.garageofawesome.com.au
Imports!
Rants!
Awesome!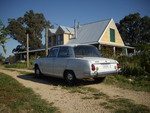 Joined: Tue Oct 28, 2008 12:17 pm
Posts: 2322
Location: Rye Park, N.S.W.
Car(s): Doris, Aunty Mary, Shrek, Jimmy; GT, Wasp, Florian & Sed unrestos; 65 Elf; worn 02 Forester; 07 Santa Fe CRD, Sigma.


So New Yorkers may be as they are portrayed on their own T.V shows. I haven't ever met any, but that Letterman! He has to be the worst ambassador. I know when he comes on in the background, it's time to RUN & turn the T.V off, then go to bed.
Hey, Commonwealth Games - No Letterman! Good stuff!
Shame about your pocket watch mate. And yeah, don't tip people that don't try. So what if they're poorly paid. They could always form a union.
Thanks for the stories mate.
Matt.
_________________
Life is far too short not to fill it with what you love.
- Jackie French.[/size]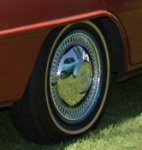 Joined: Thu Sep 11, 2008 9:15 am
Posts: 1974
Car(s): 1965 Wasp, 1966 Bellett sedan, 1966 RatBellett sedan, 1967 Bellett GT, 1978 Gemini van, 1994 LS400, 2004 VY SS Sandman


Hey don't get me wrong, I'm enjoying this country immensely, but me saying this is awesome and that is awesome doesn't make for very interesting reading!

I also had another major issue; my backup hard drive just totally died. One night it worked, the next morning it did not. I'm fairly canny though; every single photo I've taken has been copied to the hard drive of this laptop and I've never put them in the same place, so if one 'walks' the other won't be there to walk with it.

So there has been no data loss, although I did high-tail it to the closest Walmart to get a new hard drive to back my photos up on. This was in Aberdeen, Washington state, birthplace of Kurt Cobain. As I said on Facebook, I hope this hard drive doesn't follow his lead.

Cheers,

Dave
_________________
Check out the latest car articles on....
www.garageofawesome.com.au
Imports!
Rants!
Awesome!