Joined: Tue Sep 20, 2016 6:38 am
Posts: 96
Location: Sydney
Car(s): Bellett GTR, Bellett GT Group N, Isuzu Lotus,



Bellett GT Clutch 1600 cc models
Someone can tell me if I've put this in the wrong place. A while ago the Isuzu CC of Aust was asked a question about GT clutch. This was Tom's answer.

Bellett GT Clutch 1600 cc models

The Bellett and Bellett GT clutch are interchangeable on the later cars if the Diaphragm model is used. The thrust race carrier needs to be the Bellett GT on or a Chev LUV carrier to be the correct length and provide the proper geometry for the clutch actuation rod. There are many alternative 8" clutch alternatives and most covers all bolt up but some locating dowels may miss and need removal/relocation. The standard pressure plate can usually be reconditioned and a new diaphragm fitted from a range of vehicles including Holdens and MGB. Clamping pressure should be over 900lbs. The later DOHC and SOHC 1800 and 2 litre clutches were 8.5".

Pressure plate Borg and Beck 8" Diaphragm Reconditioned Original or MGB 8", Hillman etc
Clutch Plate B120W Borg and Beck 8" 10 spline x 1" centre alternate is R8045W Repco Standard 8" clutch plate fits many models, course spline
Thrust Race NTN 24TKG08/4 or NSK 24TK308B

Genuine clutch parts are available from Isuzu and Chev LUV but most just go to the local Clutch and Brake reconditioner with the above info and the old parts and that solves the problem.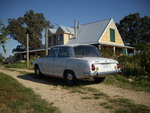 Joined: Tue Oct 28, 2008 12:17 pm
Posts: 2587
Location: Rye Park, N.S.W.
Car(s): Doris, AuntyMary, Shrek, Jimmy; GT, Wasp, Flo & Sed unrestos; 65 Elf; 82 Rodeo, 60 TX550, 72 Sport, & a Sigma.



Re: Bellett GT Clutch 1600 cc models
Nice! I haven't ever managed to wear a clutch out, but if it happens, this is good info.
I was given a diesel Rodeo with a worn out clutch, so I did change that one. I bought it on eBay, Japanese Exeedy with clutch plate, pressure plate, throwout bearing, spiggot bearing, even an aligning tool, for 82 bucks!
Works like a new one!

Listing said all Gemini, kb and kbd rodeos, chev luvs, all one part number. Makes it easy.
Cheers, Matt.
_________________
Life is far too short not to fill it with what you love.
- Jackie French.[/size]