Joined: Thu Oct 16, 2008 10:51 pm
Posts: 147
Location: No fixed address - caravaners
Car(s): '65 Wasp w/Florian G161, '66 Hillman Super Minx Wagon(now under daughter's ownership), F350 Super Duty, Jayco Caravan



water pump for 1500
Hi, will the water pump in the link fot a '68 1500?
https://www.ebay.com.au/itm/40362057622 ... name=11050
Thanks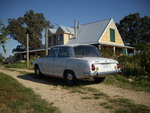 Joined: Tue Oct 28, 2008 12:17 pm
Posts: 2596
Location: Rye Park, N.S.W.
Car(s): Doris, AuntyMary, Shrek, Jimmy; GT, Wasp, Flo & Sed unrestos; 65 Elf; 82 Rodeo, 60 TX550, 72 Sport, & a Sigma.



Re: water pump for 1500
No mate, to my eyes thats a twin cam pump. It's a pretty poor listing description, the only PR91 & PR95 it will fit are twin cam versions. G161w, G180w, G200w. Don't know if any elf's that had the twin cam!
Cheers, Matt.
_________________
Life is far too short not to fill it with what you love.
- Jackie French.[/size]

Joined: Sat Jun 05, 2021 5:56 am
Posts: 3



Re: water pump for 1500
has anyone found a definite solution for the pushrod motor water pumps?

seem to remember a forklift one that fit and also a limited number of NOS rebuild kits for them back in the day