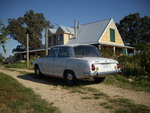 Joined: Tue Oct 28, 2008 12:17 pm
Posts: 2451
Location: Rye Park, N.S.W.
Car(s): Doris, AuntyMary, Shrek, Jimmy; GT, Wasp, Flo & Sed unrestos; 65 Elf; 81 Rodeo, Sigma, 02 Forester; 07 Santa Fe CRD.



Belletty New Year!
I hope you all have a happy new Bellett year, with the necessary time and cash to persue your projects, or aquisitions.
Good health to all, and may you all decide, you know what?, I'm just going! (To nationals, cruises, shows, display days, etc.)
Cheers!
Matt.
_________________
Life is far too short not to fill it with what you love.
- Jackie French.[/size]

Joined: Mon Jan 10, 2011 1:03 pm
Posts: 2406
Car(s): 1966 TEARDROP ...MANUAL ...



Re: Belletty New Year!
You are a legend farmer happy new year to you and your family cheers davo