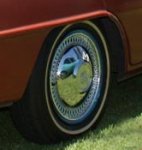 Joined: Thu Sep 11, 2008 9:15 am
Posts: 1991
Car(s): 1965 Wasp, 1966 Bellett, 1967 Bellett, 1969 Florian, 1973 Bellett GTR, 1976 Buick Opel by Isuzu, 1978 Gemini van



TravelRant - Signing off...
With mere hours to go before we ship out, I thought I'd better throw you some statistics.

Cars spotted:

Isuzus -
Chevy LUV: 2
Isuzu P'Up: 1 (1980's Rodeo)
Isuzu Oasis: 1 (Honda Odyssey)
Isuzu Rodeo wagon: many (Holden Frontera)
Isuzu Axiom: 1
Isuzu trucks: many, including GMC & Chevrolet badged variants
Isuzu I-Mark: 1 (FWD Isuzu Gemini)
Buick Opel By Isuzu: 1 (no, I didn't buy it)

Australian-built cars –
Pontiac GTO: 6
(based on Holden Monaro, built by GM Holden)

Pontiac G8: 0
(based on Holden Commodore, built by GM Holden. Ross saw 2, but I saw none)

Mitsubishi Diamante KR/KS: 3
(based on Mitsubishi KR/KS Verada, built by Mitsubishi Motors Australia)

Mitsubishi Diamante KH: 2 (including one with big wheels being driven by San Diego gang bangers. Based on Mitsubishi KH Verada, built by MMA)

Right hand drive BMC Minis: 2
One at the "Coffee and Cars" meet in LA, the other just randomly driving through San Francisco.

South Australian Registered Datsun 1600 wagons: 1
Leaving the Japanese Classic Car show in Los Angeles, California (will post photos when I'm home), I was sitting behind a Datsun 1600 wagon at the lights and did not even register the SA rego plate for several seconds at least. Upon noticing it, I had to chase the guy down and get next to him. Yep, eBay purchase!

AMG Mercedes Benz seen: about 15
The Yanks seem obsessed with the AMGs, although this is probably because there are no US luxury cars worth buying (except, perhaps with the exception of the Cadillac CTS) that aren't ALSO an SUV. AMGs spotted include ML63 SUVs, CLS63 4-door 'coupe' sedans, SL63 coupe/convertibles, S63 sedans and, bizarrely a G55, which to the uninitiated is like a Land Rover… so really pretty pointless then in AMG-form. But pretty cool, really.

Suzuki XC90: 1
The XC90 was a sales failure for Suzuki. It was kind of a 2-door sedan, but rode on a raised chassis like a 4WD, except that it wasn't a 4WD, plus it only came in automatic (in Australia, at least) and came with an MP3 player at a time when nobody knew what an MP3 was. Mere hundreds were sold in Japan, not many more in Australia and to see one in LHD here in the USA was quite a surprise.

Nissan R35 GTR: 2
It figures that Nissan would pump these out in LHD for the States and Europe, after all, Grand Turismo has introduced the world to their previous Skyline GTR products and those that grew up with the Playstation are now old enough, and with any luck rich enough, to buy and maintain this mini-Veyron. Or they would be if they didn't spend so much time playing Grand Turismo.

Worst car I actually drove:
Mercury Grand Marquis LS Ultimate Edition
Shuddered over freeway joins, lurched and lolled, went like a 3.5 litre V6 which is great, except it's a 4.6 litre V8. Interior plastics were hard and scratchy and there was a mysterious exposed bolt protruding from the base of one of the seats. Had a huge boot with a glow-in-the-dark anti-kidnapping boot-release tag, so that was a saving grace at least.

Coolest car I actually drove:
Chrysler New Yorker 1968
Picked it up in San Diego, drove it hard up the interstate until we hit Compton and pulled into the shippers with moments to spare. Windows down, 440 open for business. Cool.

Funnest car I actually drove:
Chrysler Sebring convertible
Flat out blast down the 101 with the roof down MUST be done in a convertible and they were fresh out of Mustangs. Despite the fact the stupid Sebring never knew what gear it was supposed to be in and tended to roll a bit in corners, once I worked out how to stir its slushbox and coax it around bends, we bonded a little bit. Together we visited the Avenue of the Giants, a 30-mile stretch off the freeway that takes you through the tallest trees you will ever see, the California Redwoods. Did not have time to screw around though and after a 10-hour blast at about 70mph, pulled the Sebring into the rental agency at precisely 4pm, the time I'd promised to drop it off. I'm getting good at arriving by the skin of my teeth.

Cars that aren't what they appear:
Mitsubishi Triton = Mighty Max
Holden Frontera = Isuzu Rodeo
Holden Rodeo = Isuzu P'Up
Toyota Hilux = Tacoma
Nissan Maxima = Altima
Toyota Tarago = Previa
Nissan Navara = Frontier
Nissan 200SX = 240SX with a 2.4 from the Frontier. So a truck motor, then.
Nissan Pulsar coupe = 200SX

Other sundry lists:

Wireless –
Most useless wireless:
Baldwin Hotel, San Francisco. Paid $20.00 for three days and it broke after one. Hence reason why I'm projecting this to you from the local Starbucks.

Most surprising free wireless:
Starlight Motel in Bandon, Oregon. Tiny, smelly, 1960's motel on the 101… with free wireless.

Cities –
Favourite city: New Orleans
Their penchant for partying will put you in an early grave, but they know how to do it and do it well. Any night of the week.

Most amount of bums per square inch:
Seattle, Washington
Bums everywhere, then when I took a photo, revealing my status as a tourist, I had a perfectly casually dressed, clean-cut all American boy start spinning me a story that he's had to come up from Texas and is about to ship out on a fishing boat, but needs to stay in a… blah blah blah… here's a dollar; LEAVE ME ALONE!

Hottest weather:
Las Vegas
Weather was, according to the weatherman, unseasonably hot. Regardless of how unseasonal it was, it was just plain and simple hot.

Most humid weather:
New Orleans
James the tour guide said to us that New Orleans loves to party and some say it's the swamp gas… I say it's the damned humidity!

Best weather:
San Francisco
25 degrees or so every day; not bad weather when you need to hike up 45-degree hills!

Music listened to:

The Doors, Red Hot Chili Peppers – in California
The Killers – in Las Vegas
Credence Clearwater Revival – in New Orleans (ok John Forgarty was holed up in San Francisco a lot, but he sung about hound dogs calling and Bayous and New Orleans, so it counts… hell Van Morrison from Ireland sung about New Orleans, so he counts too)
Nirvana – Seattle


Amount of bums with no legs: at least 7
Amount of bums that appeared to have no legs but were good at sitting on them and hiding then: 1
Amount of bums that were helpful and showed us where to go on the map: 1
Amount of bums that claim to be veterans: 20
Amount of bums that simply want meth: 3 (honesty is the best policy)

Amount of times we were shot at: 0
Amount of times we were stabbed: 0
Amount of times someone attempted to roll me for my shoes: 1 (he failed)

Equipment failures:
X1 SD card – woke up one day once I'd emptied it and it was dead
X1 hard drive – woke up one day and it was dead
X1 Samsung Galaxy S smartphone – was working fine until someone smashed a bed into it

It's been an awesome ride; I thoroughly recommend renting a car and doing the 101, I recommend avoiding Vegas unless you like gambling and I recommend you go to New Orleans and eat up. If you ever get over here, you'll find the people range from rude to helpful, fat to thin and rich to poor, just like most other places.

The cities are endearing and the food is actually pretty good. The coffee is terrible and the juices are over-sugared. The Wifi is everywhere (except San Francisco; well it won't work anyway) and the phone coverage is OK.

The people won't understand you unless you use their words (eggs over-easy, bags in the trunk and never ask for a flat-white…) and they won't understand you unless you take deliberate steps to talk like Steve Irwin.

I've gotta go; bus is coming to pick us up for the 27 hour (yes, 27 hour… including wait times between flights) trip back to the mother country, so I'll sign off here and hopefully write something more interesting in the future.
_________________
My latest automotive articles and original content shared here:
https://www.facebook.com/garageofawesome
Street Machine!
Unique Cars!
Awesome!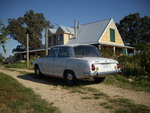 Joined: Tue Oct 28, 2008 12:17 pm
Posts: 2514
Location: Rye Park, N.S.W.
Car(s): Doris, AuntyMary, Shrek, Jimmy; GT, Wasp, Flo & Sed unrestos; 65 Elf; 82 Rodeo, 60 TX550, 84 Sigma.â 2 Moderns


Yeah mate, It's like we were there with you. Even Tracy has been reading your Rant!!
Gary Carter will be happy there are some Capris left, he has one & likes it a lot.
So no Japan stopover on the way home to collect a Fastback?
Safe travells & see you at the Nationals. (Getting excited!)
Thanks mate, Matt.
_________________
Life is far too short not to fill it with what you love.
- Jackie French.[/size]