Let's get this straight.
I'm not homophobic.
But if something is gay, well then it's gay. So firstly, if I have written or in the future write about something that I've described as gay, don't immediately take offence to it. Sure, it might be gay, but the meaning of the word has changed so much in the last 50 years that surely it can have three meanings.
Ever since I was a teenager, if something was gay, well then it was gay. You didn't want it, you didn't like it and you probably didn't want to touch it. As it turns out, during that time of describing everything from teachers to cars to the weather as gay, one of my friends was secretly gay. When he came out and said he was gay, I was happy for him; it always takes great courage for someone to come out as gay. However, I did mention that if I felt something was gay that it would still get described as gay, regardless of his bias.
I did apologise a few times when I said I wouldn't and now I do indeed moderate what I call gay and why when I'm around him and his partner, but the reality is that I mean no offence.
Back in the day, gay stuff was happy. Gay people were happy. And anything that was gay was generally brightly coloured and, indeed, happy. Happy to see, happy to hear and happy to behold. Gay-as.
But then one day, gay started to mean gay. Sort of a bit campy, sort of a bit mincey and certainly a bit, well gay.
And the rest of the world had to catch up. For instance, Holden ran an advertisement in the 1950's; 'Go Gay with a Holden'. As far as I'm aware, they only ran it in Singapore, however regular Australian-types would have had no problem with that back in the 1950's.
Attachment: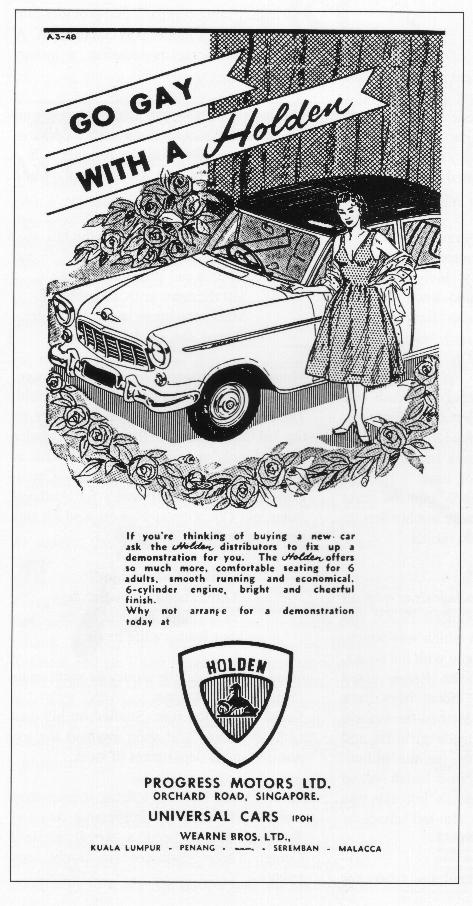 Holden sedan advertisement - Singapore - circa 1956 - Go Gay with a Holden.jpg [ 103.39 KiB | Viewed 14267 times ]
It simply meant 'happy' and being gay with your Holden at the time was perfectly acceptable. There were no connotations or overtones and the closest any stoic 1950's Australian man got to going gay by modern terms was either hazing someone in the army or repressing everything and becoming a priest.
Singapore, Australia, whatever, nobody's going to go gay in a Holden now unless they own a black convertible Astra and live in Newtown.
Ice cream manufacturer Streets for a long time ignored the changes occurring in Australia's gayness. And for a long time, they resolutely soldiered on calling their flagship ice block-on-a-stick the Golden Gaytime. I would often have a Gaytime as a child and turned out mostly straight.
Today I saw an advertisement on the side of a bus, "It's hard to have a Gaytime by yourself". True enough, but with the Internet anything is possible. It appears that Streets have embraced the change in the meaning and now use it in a tongue-in-cheek fashion which is great and a lot more sensible than burying your head in the sand and hoping everything goes back to being gay like it was in the good old days. I have since found out that the multi-packs in the supermarkets carry the tagline "4 chances to have a Gaytime!"
Fantastic.
Streets have embraced the change that was in the wind since the mid 1960s. And now I'm asking people to embrace a change for the 2010's. Words such as 'pound' have developed over time to mean a unit of currency, a jail for dogs and a thousand other meanings I'll leave up to your imagination to populate. Why can't 'gay' enjoy the same liberal freedom of application?
Adelaide's Advertiser runs an American comic strip called "Zits" about a teenager's interactions with his friends and parents. He says on a particular example, "Dude, those shoes are gay!" to which his friend replies "I am gay Jeremy, you know that."
Jeremy sheepishly finds himself in a position that I have found myself in the past, however he says it out loud, "Uh, I meant 'gay' as in 'lame', not 'gay' as in 'homosexual'". And he leaves it at that, which is more than what I would have said.
And dammit I'm sick of it!
So to sign off, here is a partial list of things that I think are gay:
- Black Holden Astra convertibles are gay.
- Faux hawk hair-styles are gay.
- Computers, cars and other assorted machinery malfunctioning and ruining your day are gay.
- Television channels deliberately delaying scheduling to punish you for recording their shows is gay.
- McDonalds salads are gay.
- Celine Dion is gay.
- Homophobia is gay.
Cheers,
Dave