People often ask me the following question when it comes to Belletts. It's a pretty short question.
"Why?".
Seriously, when I was a kid, all I wanted was an orange Holden Torana SLR5000, preferably with the A9X option, or better still a Torana SS hatch with the A9X option. But during my path to hulkingly powerful Torana ownership, things went incredibly awry.
As a teenager, A9X Toranas were still commanding about $12,000, which was money I didn't have and nobody was going to help me with. A good SS hatch without the A9X homologation option with the RTS-spec rear end, large Salisbury differential, large Holden sedan brakes and 14" Monaro GTS steel wheels was only about $5000. And noboy dwas going to help me with THAT either.
I almost managed to win though. My dear grandmother had money set aside for her grandkids after she died and she said that she'd dip into that and help me buy a sensible hatchback. Unfortunately, a 5.0 litre, 4-speed manual V8 hatchback with bolt-on body kit and Bathurst homologation did not fall under her definition of "sensible hatchback" and the dream was left unfulfilled.
Now a good A9X Torana will command around AUD$100,000. Damn. Although it was just as well. If I'd been successful, I'd have a car that I'd probably have modified and ruined the value of, which would still be too valuable to drive and when I did drive it, I'd have to be sure nobody followed me home. Worst of all, when you own a car, you spend a lot of time looking from the inside of the car out and the LH/LX Torana range featured the world's least interesting dashboard.
Alternatively, I did strongly consider a HX Holden Sandman van, preferably a manual and preferably a ridiculous colour with SANDMAN emblazoned proudly across the back. But I did (correctly) ponder if the handling would be woeful, plus there was another thing holding me back (it certainly wasn't good taste), it was the price of petrol, which was probably a lofty $0.70c per litre.
I was delivering pizzas for a living and fuel economy was paramount, plus I had unlimited use of Mum's Mazda 323 wagon (aka The Joywagon, after her numberplate JOY034) as she'd recently inherited her dad's KE70 Corolla. The Joywagon was pressed into service longer than anticipated and I was fortunate enough to be able to tour in it, sleep in it and deliver pizzas in it. And hate every minute of it.
These factors then dictated my next choice of vehicle. It obviously had to be a Holden and it had to be four-cylinder. Unfortunately, Holden's track record on four-cylinder vehicles was terrible at best; HB Torana's were cool but feeble, LC and LJ Torana four-cylinders were overshadowed by their stronger AND longer six-cylinder counterparts, while the LH and LX Torana four's (aka Sunbird on later LX's and all UC's) not only had a completely gay name, but were even more feeble when compared to the loud and lairy SLR5000 V8 machines.
I'm not even going to discuss the four-cylinder Commodore, except suffice to say it was not in my radar.
So, in terms of rear-wheel-drive Holdens, the choices were limited. It was either going to be a Gemini or, uh, ah, well that was pretty much it. My mate Wade had a stonking TD Gemini coupe that reguarly made mincemeat of my Joywagon at every single set of traffic lights and at every single opportunity. Then another mate bought a TD Gemini sedan. I thought the wagon was a bit wet, so the panelvan was the only option.
For a time there, almost all my friends owned TD Geminis of one shape or another. Two had coupes, one guy had a sedan (albeit two different sedans) and another friend owned a wagon, while I was the only one to have a panelvan.
I looked long and hard for my car and missed out on a couple of pearlers, including a rust-free, RAA-special. It was yellow and was definitely plated a van, however it had the windows of a wagon. I was going to buy it and put the panels in it, however the seller sold it on before I got a chance. Mum insisted, ironically on an ex-RAA van, than I get an RAA inspection, and this delay in purchase meant it went to another home.
While camping down at Victor Harbour, I found a red Gemini van parked out the front of Rumbelow's Deli. It had a black vinyl roof, sunroof, terrible K-Mart wheel covers and the mural of a Hawaiian-style scene on the side. I fell in love instantly and bought it, liberated finally from a life of driving banality in Mum's Joywagon. I don't know if you can fully appreciate how gay it is to rock up to a teenager's party (which inevitably spilled onto the street) in an orange wagon that said "JOY" on the numberplate.
Awesomely, it fulfilled some major desires... strictly automotively speaking, of course. It was a Holden, which was paramount given the amount of trash-talking I did about every single other brand in the world when I was 18 years old, plus it was rear-wheel-drive, which was good for sideways action, it was able to sleep one person comfortably or two intimately and while it was the same model as my friends' cars, it was also a bit rare and a different shape.
The FeralVan, as it was christened by a friend of mine, was truly a freedom machine. I looked past the odd bits of it that had been hacked away with what appeared to be tinsnips; including the leading roof support to make way for the dodgily inserted sunroof. I looked past the under tray of the fuel tank, mainly because it had rusted away. And I looked past the discarded frangar packet I found under the spare wheel.
Attachment: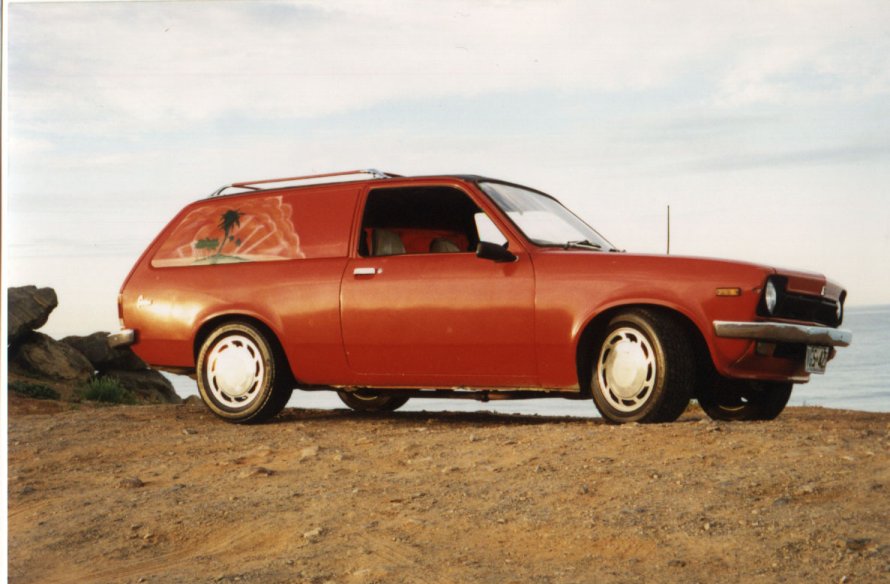 Holden Gemini 1978 TD Panelvan - 05 - resize.JPG [ 79.11 KiB | Viewed 14384 times ]
That car went well despite some seriously rallying, and for all it's faults and rattles, it rarely left me stranded. I upgraded the engine to a G180Z SOHC engine, fitted Pedders shocks with lowered springs all 'round and put a Momo sports wheel on it, which cost me about 20% of the car's overall purchase price. Eventually I fitted a set of polished Nissan Exa alloy wheels, which everyone thought I'd taken of a VL Calais (except they have a completely different stud pattern).
The thing was a beast, but one day the clutch went 'bang' and I thought, "Perhaps it's time to upgrade". The thing was, indeed, incredibly rusty. FeralVan was replaced with FeralVan 2000 late in 1999. It was blue and looked a lot better, however it did NOT have a mural and it was just as dodgy as the original FeralVan. Our dalliance was short-lived and after it snapped a lower control arm and almost killed me, I bade it farewell and sold it to a surfie who has never surfaced again. Perhaps it killed him, as it had tried to do to me.
I made the decision that stock is better, so I thought I'd look for an original, unmolested TD Gemini panelvan. It had to be chamois, as most of them were that colour, and could not have been overly modified.
The first one I looked at was the right one. It had been in some minor bingles, but back when it was new enough to be fixed properly, plus it was chamois and was essentially unmodified; 1584cc SOHC engine, 4-speed, everything.
I bought it and christened it "BreadVan" as it was not only the same colour as bread, but it was the same shape as bread and probably delivered bread at some stage in its commercial life.
I had a lot of fun in that van too; raced it properly in CAMS-sanctioned events and drove it around Tasmania. I still own it and currently, it's just sleeping.
Just over 12 years ago, when this Isuzu relationship started, the Internet was still shiney and new. HotGemini had not yet been hacked by Muslim extremists and was not only a public forum, but was so in the purest sense; you did not even need a login to post! Yahoo was the search engine of choice and upon Yahooing (now known as "Googling") "Isuzu" information about the Bellett sprouted forth.
After a minor amount of research, one of these Isuzu Bellay's (as I pronounced it) came up for sale in the paper for $300. It was a 1967 auto. I took Ross (2ldohc) and we handed over $100 each and took the car away. That car is long-gone, but it sparked a desire for something different, to save a little portion of automobilia that is ignored by 99.9999% of people and to keep a rare car going for not only ourselves, but the people that remember them.
And that, my friends, is why.