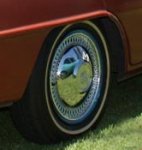 Joined: Thu Sep 11, 2008 9:15 am
Posts: 1991
Car(s): 1965 Wasp, 1966 Bellett, 1967 Bellett, 1969 Florian, 1973 Bellett GTR, 1976 Buick Opel by Isuzu, 1978 Gemini van



Adelaide Just Experienced an Earthquake
Back in 1954, Adelaide experienced a fairly sizeable earthquake. Some houses cracked and I believe something rolled off a shelf. In about 1987, we had another small earthquake. The back sliding door of Mum's house shook fairly violently for a few seconds and, thanks to television, my sister and I thought that psycho alien rapists were trying to get into the house.

Then, last night at about 11:30pm, the surreal subterranean rumbling of another earthquake hit our town. Although apparently 3.2 on the Richter scale, it sounded less severe than a Sydney subway train. In fact, I initially thought it was a wayward garbage truck, however for him to be about three stories underground, where he sounded like has coming from, would make him incredibly wayward indeed. My wife reckoned it was a tremor of some kind and, in a sparkling display of the norm, she was right.

Adelaide is built on a fairly sizeable fault line. It runs through the Keswick rail yards which is pretty good, because if The Big One hits, there will be some derailed trains, but less toppling buildings. Although it then runs up the hill and under Flinders Hospital, which is bad, because if The Big One does hit, that will be incredibly ironic that most of the injured will already be in hospital. Under several tonnes of rubble.

The hospital is said to be fairly earthquake-friendly and is even in the shape of a square so, if need be, it can transform into a parallelogram. That would not distrub the people at all, I'm sure.

You know, I don't know why we pay so heavily for insurance here. I mean, the pricing is reasonable compared to inner Sydney or Melbourne, but really there's very little acts of God's vengence that need to be paid out. Sure, people still crash into each other and, indeed the odd car gets stolen, but given recent disasters around Australia, we've been untouched.

Hail stones in Adelaide are generally about the size of a pea or perhaps a baked bean. Most of them are so pathetic, they are essentially water once they've been on the ground for about 5 seconds. Last time we had a storm with significant hail, it was about 1991. There was footage of a dog running around on the news chasing hail stones, my Grandmother's window on her house was broken and someone lost the bonnet badge off their Beetle, which my sister picked up and gave to me.

Compared to the recent storms in Perth, which generated 6000 vehicle claims in Suncorp's Niche Brands area alone, along with the one in Melbourne two weeks' earlier, which cost around four times that of the Black Saturday bushfires in terms of dollar value, Adelaide has nothing!

Speaking of Black Saturday while the dollar value was significantly less than the recent hail storms, the human cost was exceptionally high with over 170 people losing their lives. This was a massive event that touched many people, including members of this very forum. However, the last great bushfire to affect Adelaide was the Ash Wednesday bushfires of 1983, a series of fires across Victoria and South Australia that left 75 people dead. Tragic and, indeed massive, but also long-gone from the recent memory of insurance premiums.

And because it rains here once every hundred thousand years or so, floods are pretty infrequent as well, although we had one a few weeks ago where a few shops got flooded but on the whole, nobody was waist deep in water.

Because even allegedly local insurers like RAA are part of a national network (Suncorp again), perhaps they are trying to spread the load evenly across the nation, rather than pump up premiums in areas that have been recently and directly affected by disasters and wild weather phenomenon. By and large, this is good for the people affected, but locals in areas like Adelaide, where not only nothing ever happens, but nothing is likely to happen, some locals are a bit put out, and probably justifiably. Although, the real reason for premium increases across Australia could be money. Really?

I work for a small company company owned by a major insurance player and because of events more revolving around the Global Financial Crisis than observable weather issues, it as deemed about 18 months ago that overtime would no longer be paid for weekend office work and instead a day off in lieu would need to be taken. While I'm grateful that there's a structure in place for us not to be exploited on weekends, the nature of the business is extremely weekend-heavy and this results in a lot of people missing during the week. Other weekend work out of the office is paid in overtime, so the savings to the company are not massive, and the losses are tangeable when four people are missing from the office on Monday. But the sacrifice must be made because the major insurance company that owns us only made AUD$348,000,000 last year. Poor guys. They must be on the bones of their arses.

Premiums aside, I guess it's still cheaper than health insurance and while one can whinge that we pay too much for insurance in an environment that thankfully offers us little chance to claim, all I ask is that when push comes to shove... and The Big One does hit, that they will be kind enough to rebuild the house, fix the car or put that thing back on the shelf that rolled off.


Cheers,


Dave
_________________
My latest automotive articles and original content shared here:
https://www.facebook.com/garageofawesome
Street Machine!
Unique Cars!
Awesome!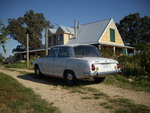 Joined: Tue Oct 28, 2008 12:17 pm
Posts: 2587
Location: Rye Park, N.S.W.
Car(s): Doris, AuntyMary, Shrek, Jimmy; GT, Wasp, Flo & Sed unrestos; 65 Elf; 82 Rodeo, 60 TX550, 72 Sport, & a Sigma.


Nice that the earth moved for you mate, without anything rolling off the shelf & onto you.
And thanks for the subsidy. While we were visiting you for the nats, there was a rather dramatic hailstorm in Crookwell. It busted just about every windscreen & rearglass that was in the open. People are still getting cars repaired, & some have taken them over 100k's to be done. Many writeoffs. Had we not been enroute, the Sube would have been in the school carpark with all the other busted cars. Lucky Sube!
Cheers, Matt.
_________________
Life is far too short not to fill it with what you love.
- Jackie French.[/size]