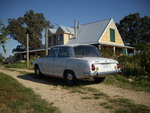 Joined: Tue Oct 28, 2008 12:17 pm
Posts: 2534
Location: Rye Park, N.S.W.
Car(s): Doris, AuntyMary, Shrek, Jimmy; GT, Wasp, Flo & Sed unrestos; 65 Elf; 82 Rodeo, 60 TX550, 84 Sigma.â 2 Moderns



1972 Superbug for sale.
Because why not?
Ok, totally unrelated to Belletts, but ya never know, maybe someone needs a bug in their life.
Milli has decided to sell her Beetle as she is living in Sydney now and would like aircon.
Fully rebuilt motor.
New front discs, caliper kits, rear wheel cylinders, and flexible hoses.
Good tyres, battery, etc, everything works.
9 months full NSW rego.
Usable classic get in and drive car.
Value is heading up.
Interior is good, but for the headlight which has tears. Replacement kit included.

$10,000 or near offer.

Thanks, Matt. (And Milli.)



_________________
Life is far too short not to fill it with what you love.
- Jackie French.[/size]