Joined: Mon Jan 10, 2011 1:03 pm
Posts: 2419
Car(s): 1966 TEARDROP ...MANUAL ...



isuzu/bedford ???
hi ,,look what come up on ebay listed as a Bedford/Isuzu ..tipper ..ironically has a rodeo badge on the side of it its in the blue mountains $2000 item 121513359142 ..farmer ..a tipper boby is woth $$$$ alone cheers davo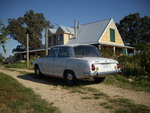 Joined: Tue Oct 28, 2008 12:17 pm
Posts: 2603
Location: Rye Park, N.S.W.
Car(s): Doris, AuntyMary, Shrek, Jimmy; GT, Wasp, Flo & Sed unrestos; 65 Elf; 82 Rodeo, 60 TX550, 72 Sport, & a Sigma.



Re: isuzu/bedford ???
Had a look mate, its the first model Rodeo after the KB, which finished in 1980. (Gary Carter has an '80, and just club regoed it.)
I reckon $2000 is pretty steep for a paddock truck, but it does have low ks on the speedo.

Cheers, Matt.
_________________
Life is far too short not to fill it with what you love.
- Jackie French.[/size]